Poke is a wonderful to transform some of you fresh tuna into a wonderful summer appetizer!  Here's one of my favorite recipes!
1/2 pound sashimi grade tuna, diced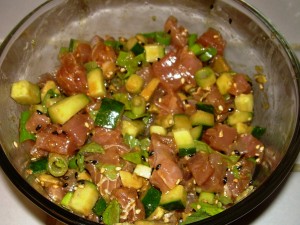 1/3 cup diced cucumber (I like the Japanese cucumbers for this!)
1/2 avocado, diced
3 tablespoons chopped green onion
1 teaspoon red pepper flakes
2 teaspoons toasted* sesame seeds (use half black, half white)
1 teaspoon lemon juice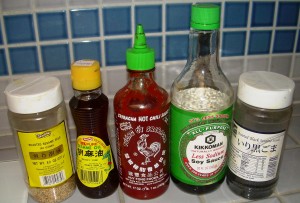 1 1/2 teaspoon sesame oil
1/3 cup soy sauce
Optional additions:
Tobiko (flying fish roe)
Green Shiso, minced
In a medium bowl, combine the tuna, cucumber, green onion, red pepper flakes and sesame seeds.
In a small bowl, blend the lemon juice, sesame oil and soy sauce. Pour over the tuna mixture, and stir.
Add the avocado, and gently fold in, so as not to mash the avocado.
Once chilled, serve with toasted bread or your favorite crackers. Baked won-ton chips are also wonderful with this!
* To toast sesame seeds, heat a dry skillet over medium heat, add sesame seeds. Stir and cook until toasted and fragrant, about 2-3 minutes.