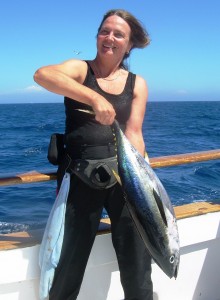 I rode to Oceanside with Danny and his brother Charlie. The way the traffic has been, the shorter ride than all the way to San Diego was a nice change. Riding instead of driving was nice, too!
The close lot was full. Charlie dropped us and our gear and parked in the lot across the street. I've never seen it, so no idea how big it is or the conditions, but it took him a while to get back, so I'm guessing it's a big lot.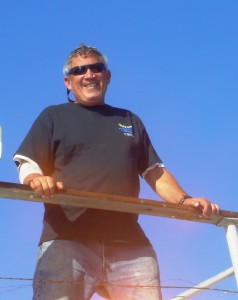 The Black Pearl came in from a two-day, Captain Joey Helgren came off the Electra and said the fishing had been a little slow. We had heard rumors that there was a bait shortage. Joey said there was plenty on the Electra that he could pass off to our boat if the receiver was short. The Oceanside 95 arrived a few minutes later and unloaded. Captain Rick Slavkin came down and talked to Joey back on the Electra while the fish was passed out and boat cleaned, and we loaded up a little after 8:30, and rolled away a little after 9:00. At the bait dock we picked up a load of large anchovies, and a little smaller sized sardines, while Captain Rick went over safety and tackle recommendations in the galley.
I rigged up, and went to sleep.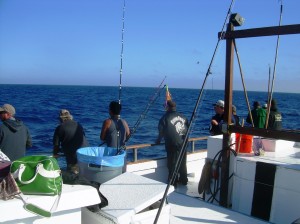 I woke up to hear the engines slow up. By the time I made it up on deck we were already stopped on a drift, and we were rolling pretty good. There was a lot of wind on Saturday, and offshore Sunday morning was rough! Captain Rick called "wind them up" before I even got a rod… We'd picked up two troll fish to stop the boat, but nothing on bait. Second troll team was up, and in a few minutes we had another jig stop, one jig fish, one on bait, then rolling again.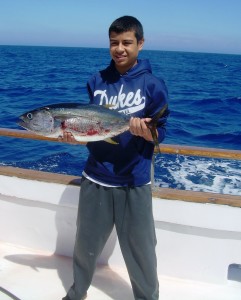 The weather came down through the day, bit by bit, but the damage had been done. Choppy conditions made it hard to spot kelps, it was late afternoon by the time it laid down enough to be able to see much of them at all.
We had a couple of drifts for a dozen or so fish each. Several other smaller stops. We were fishing in the 371 area. All of the fish were caught on tern birds except one by a small kelp (probably a 10 foot stringer wrapped in a circle) and one around a hammerhead shark. Most of the fish were caught on bait, a couple on Megabaits. It seemed most people were fishing 30#, but I didn't get bit until I dropped to 25#.
We ended up with 43 yellowfin and 1 dorado.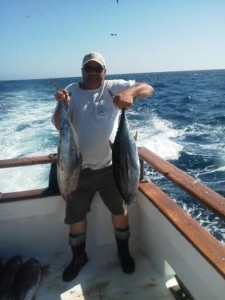 Weather conditions made for a little slower fishing, but Captain Rick did a great job putting us on some fish anyway, and the crew was right there to help with tangles and gaff our fish. We had a relatively light load, only 31 people on a 95 foot boat! I'm hoping we can do this again before the season ends!
 A little about the boat: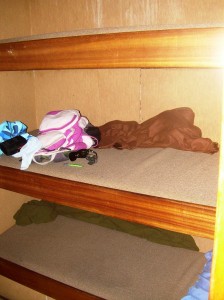 All the bunks on the Oceanside 95 are in staterooms, anything from 9 bunks in the bow stateroom, to a couple of smaller ones with 3 bunks. Most of them had 6 bunks.
The air conditioning works really good… so much so I needed a blanket, and wished I'd had a sweatshirt. I think most of the guys were pretty comfortable. The bunks are covered in a tweed fabric, which is nice because you don't feel like you need a sheet, or you're going to slide off. There's nothing worse on a warm night than sleeping directly on a vinyl covered mattress…!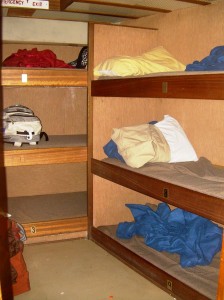 Stairs from the center of the galley split and one set go to the aft staterooms, another to the forward ones. There are two spacious heads off the galley, one with a large shower area.
The galley seats probably 20 at a time comfortably. There's a long bench across the back of the house with a padded seat and tables in front of them where another 8 or so people can sit. It's usually in the shade, so it's a nice place to get off your feet for a while on a sunny day.
Hand wells around the bait tank are easy to get to, and a good size to be able to easily grab a bait. They're relatively dry and only spilled over in deep swells.
Fish are stored in gunny sacks, and tagged and dropped in the hold between bites.