My third annual birthday trip on the Gail Force last Sunday!
Loaded up with mostly friends of mine (few spots had to go open party). We stopped at the bait dock for a load of smaller sardines, plus a load of larger sardines with some huge mackerel mixed it. It looked like we had some awesome ammunition to get them good at Catalina.
Saturday they had been out with a charter group… 40-some close friends! (Yikes! The boat is coast guard approved for that, but that's going to be pretty crowded!) Captain Joel put them on a great bite of yellows and they put about 50 of them on the boat, so we were all stoked and excited.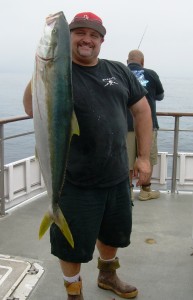 I rigged up and caught some zzz's on the way to the island. Nice ride in calm seas with a little overcast. We set up on a spot and the bass started biting within minutes. The smaller sardines were the perfect bait for them!
The bad news was most of those bigger sardines rolled on the way to the island.
Jeff Dalton got a really nice yellowtail fairly early, finding one of the larger sardines that made the ride over. I threw a mackerel at them that generated no interest, no one else got anything in the water that would entice them at that time either…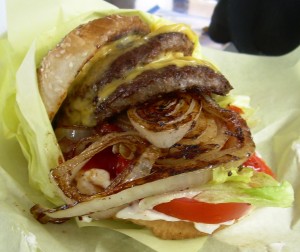 We made a bunch of moves… Lots more bass, most of them released, and a few smaller yellowtail pretty much rounded out the day.
Mike made me a huge birthday double burger that was very messy and very good!! There were also Jim Racela's flaming Spam balls, and some chocolate chip cookies (I gave Danny my secret recipe and he did a great job on them!! ).
Always a good time on the Gail Force! This is a great boat to charter for a small group, their regular load is 20 people but if you like a crowd you can put more on there…