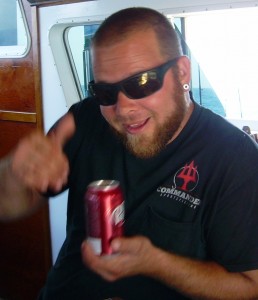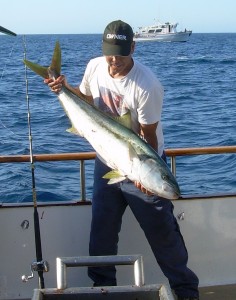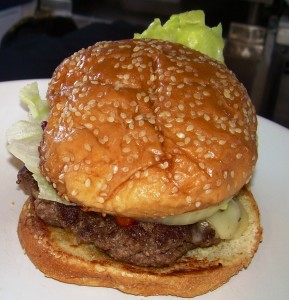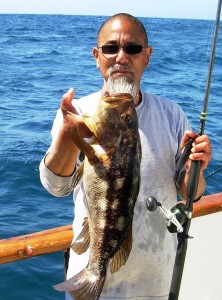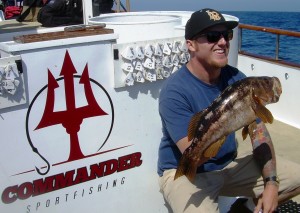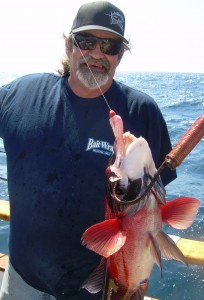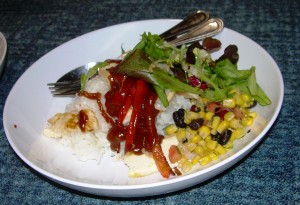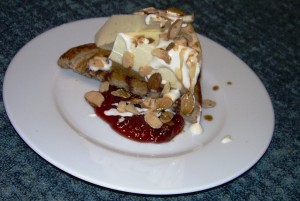 When weather conditions and other factors forced the cancellation of a 2.5 day Bait Wraps sponsored trip scheduled on the Eclipse, Captain Mark Gillette was kind enough to move our trip to a 1.5 day trip already scheduled on the Commander, out of Long Beach sportfishing. Fortunately we were able to fill that trip.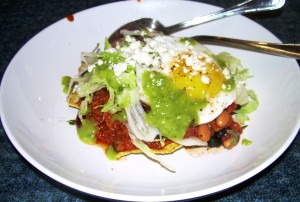 Danny and I got to the landing early and had calamari, while the boat ran out to get fuel and bait.
Captain Steve Kugler welcomed everyone on board, went over safety features of the boat, our game plan, and tackle set up recommendations. We'd be headed for San Clemente Island in search of yellowtail and calico bass. After that Danny and I drew sack numbers and gave each of the passengers a Bait Wraps jig. As a bonus, if the jackpot fish was caught on a Bait Wraps jig, they would get to order another $100 worth of jigs directly from Rich Whitaker.
Ed served trays of sliced meat and cheese with crackers as we headed out. It was a little rough heading out, but conditions were nice around the island.
We anchored in the cove, with most of the rest of the fleet around us, I think. Ed was serving breakfast already when I got up, huevos rancheros! It was really good! And right about the time I'd finished scarfing it down, the fish started biting.
Unfortunately for our jigs, today the yellowtail were in the mood for live sardines, and couldn't be enticed into biting iron. I stuck with my jig for a while, but with fish hitting the deck around me all hooked on sardines, I gave up and switched to live bait.
We had a steady pick at them for a couple of hours, that slowly dwindled. Boats around us gave up and left. We stuck it out for a few more fish, and made an hour long run to the 9.
We picked away at them there, too. Several drifts produced some nice quality calico bass, most of them released.
Ed made us some great burgers for lunch, with pepper cheese, bacon, peanut butter and jelly, with French fries.
Later in the day Captain Steve moved next to island to find a calm place to stop for dinner. Metering alongside the island, though, he found no signs of fish to stop on. He finally settled on a spot to anchor for dinner… Ed made a wonderful dish, of barbeque chicken over rice, with grilled red pepper and green beans, salad, and a chilled corn and black bean salsa. The dessert was absolutely amazing! Cheesecake over a grilled piece of cinnamon bread, drizzled with caramel and balsamic vinegar!
I hear the ride in was rough… I just zonked out and slept the whole way in.
All around it was a great trip! We ended up with 50-something on the yellowtail, the jackpot yellowtail went just ounces under 30 pounds, on bait, so no winner on the extra jigs. The average yellowtail was probably something around 15 pounds. And a few rock fish and some monster sized sheephead in the mix as well.