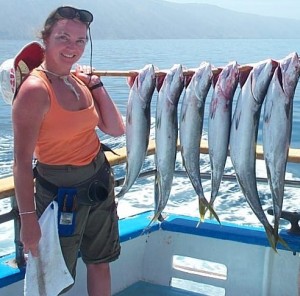 Wow!  My first post!  I guess I'll start with a little bit about myself..
Most anglers I know can tell a story about the very first fish they caught.   I can't.
I grew up in a small house on Lake Minnetonka, Minnesota, and spent many days on the dock in front of our house with a cane pole, black cotton line and a rusty hook. My mother threw coffee grounds into a flower bed outside the back door, and by morning the worms under them were thick. I was set with bait for the day! I'd spend the entire day out there catching sunfish that my poor dad had to fillet after a day at work.
For my fifth birthday I got a tackle box and a Zebco rod and reel. My grandmother was mostly responsible for teaching me to fish. She spent hours on the dock with me teaching me to cast.
We moved out of the house on the lake when I was 10, into town, but summer vacations were spent at various lake cabins in Minnesota and Canada. And we always fished a lot wherever we went.
I moved to California when I was 21, but didn't start fishing on the coast here until the mid-90's. I went on a few charters with a local tackle shop, and WON on the water seminar trips, both provided good loaner tackle. My first tuna trips were 2-day trips on the Red Rooster. On one of those, I caught a 52 pound yellowfin, and sent a picture of me with it to my grandma. She took that picture with her when they moved her into a nursing home, and she called every person into her room that passed by to "come here and see my granddaughter!"
In early 2005 I joined a few new friends on a 13-day trip on the Shogun and caught my first cow, weighing in at 200.0 on the certified scale. Since then, I've averaged 25 trips per year, and about 30-40 days on the water.
While most of my fishing is local southern California overnight to three day trips, I usually do one longer trip every year. Some of the other locations I've fished:
             Alaska
            Lake of the Woods, Canada
            Northern Minnesota Lakes, including a weekend ice fishing
            Cabo San Lucas and La Paz, Mexico
            Kona, Hawaii
            Moro Bay, California
            Key West, Florida
            Fiji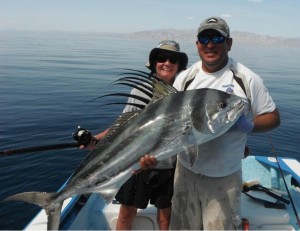 I also write for Examiner.com.  You can check out my articles at the link provided.