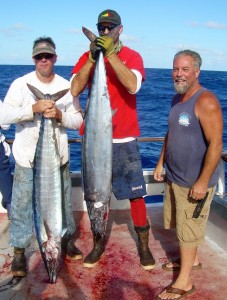 Danny and I pulled together a few great sponsors for giveaways on this trip…
Yellowfin catches had fizzled, although the dorado were still full speed, if you could find the right paddy… and a few wahoo here and there. The forecast of high winds told me it was going to be an uncomfortable trip… and slow fishing.
The forecasters lied!
We loaded and left with 33 passengers on the 90 foot Chief. Jeff gave a safety speech and a run down on the plans after we left the bait dock loaded with what looked like some beautiful sardines. Danny and I had a gift bag for every passenger (hand towel, finger tape, head lamp) and then a raffle including a nice Tiburon rod, 6 pairs of "Bomber" floating sunglasses, 12 Bait Wrap jigs, and two passes for lobster fishing on the Gail Force!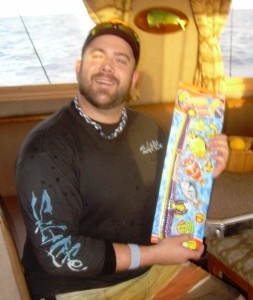 Overnight was a little lumpy, but by morning it really seemed to be coming down. We started trolling and quickly hooked up! Dorado on the troll, a couple more hooked on bait with one landed. (I had a "special" prize for the first bait fish….)
Off again, and before long we hit a paddy that bit… with what I hadn't expected: Yellowfin! Wide screaming open for a couple of drifts until we had limits!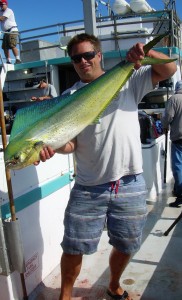 Wind up, and look for something else. And within minutes again, we were pulling dorado like crazy! No "neck ties", all really nice fish! And a huge surprise…. Wahoo!! We hooked a total of four on the boat, two of them were landed, both on megabaits. A third and last drift on that paddy yielded not a single bite, but we had 70 of them on the boat already! It was only a little after 10…
Lunchtime came and went. We wandered looking for more dorado, but now the ocean was like a lifeless desert. Couple of jig stops on bonito. Some late afternoon yellowtail, sashimi afternoon appetizer before an awesome steak dinner!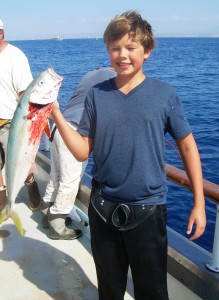 Morning we were closer to the Coronados looking here and there for yellows. We found a few spots that gave some up, and picked away for 54 of them, and close to home, called it a day and had dinner while we rolled to the dock late Sunday night!
Thank you Captain Chris Randal and the crew of the Chief for an amazing, incredible trip! What a way to end the season!