Record heat in Southern California this week conspired to make everyone miserable, and make me almost appreciate my air conditioned office job.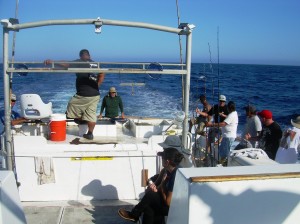 So I was thrilled when we got a late invite from Captain Joey Helgren to join a charter group on the Electra for a light load.
After an easy drive to Oceanside (school's back in – less traffic?), Danny and I grabbed a couple of appetizer plates at Joes Crab Shack. Then we unloaded our gear and I parked in the lot across the street. It was my first time using that lot. It's huge, nicely laid out, and very well lit. I scored a spot right next to handicapped area, so it was a quick walk back.
(Note that the exit to the parking lot drops you off back by the freeway on ramp, and it's around the block the long way (several left turns) back to Helgren's if you're picking people up again.)
We got our gear on the boat and I picked a bunk close to the doors. There's no A/C and it was warm down there! All the other passengers boarded and signed in, and we rolled away from the dock with only 19 anglers.
The Oceanside 95 had just come in with over 200 fish from a 2-day, and we headed out to the same area they had fished off of San Clemente Island. Loaded with some nicer looking sardines, we headed out in windy conditions and pretty rough seas, knowing at least it would be downhill all the way back Saturday afternoon.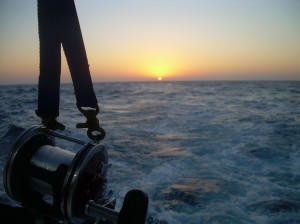 The sun rose on less than ideal conditions. We trolled around all morning, stopped on a few meter marks, a couple of jig strikes.
By late morning we had just 4 or 5 yellowfin, and a few rat yellows that were too beat up from troll jigs to throw back.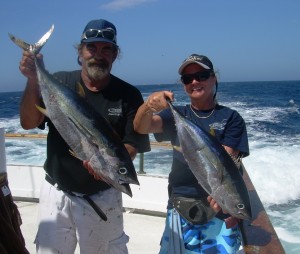 Captain Joey had a line on a spot closer to home where a friend had done well on nice tuna on Friday, so we worked our way back that way through the afternoon, stopping occasionally on a vacant paddy or chasing a spot of birds. It was a long ride with no bites. Even arriving at our destination, there was no signs of life, and no more fish.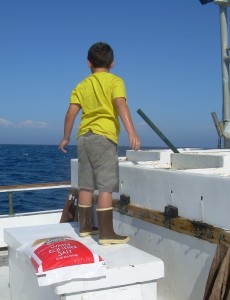 Less than ideal conditions all day made for a very slow day. It was an eclectic group that made for some interesting conversations and a lot of novice and first time anglers that would have made a small group on such a large boat a fun experience if the fish had cooperated.