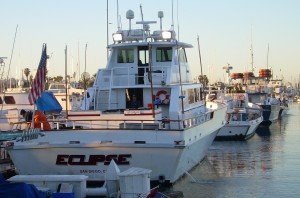 I'd never done a trip to Colonet, so I jumped on a chance to get out on the Eclipse for a trip planned to that area.
Packed and ready to go, I checked on-line one more time and found I had a message from Chris Dunn… the Fishing Weatherman.  Our personalized weather report for the weekend called for light wind… and rain.  Great.  I added my rain suit to my backpack and threw it in my car.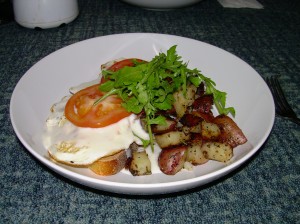 Danny and I drove down to Seaforth Landing and parked right in front of the entrance.  (Parking at Seaforth is FREE, and always plenty of room.)  Sharla arrived and checked us in, confirmed our reserved bunks, and we were on board and ready to go ahead of the 6:00 PM departure time.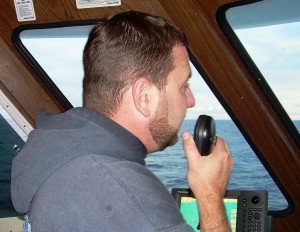 We rigged up some, and finished after the safety speech and game plan.  Our crew was Captain Mark Gillette, second Captain Adam Williams, with Steve and Ryan ("Chewie"), with Jason in the galley.  There was lasagna, brought down by one of the passengers, that was wonderful!!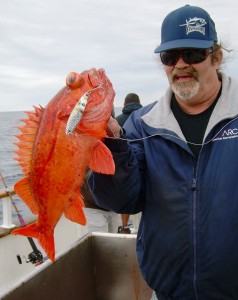 We loaded bait and I was off to bed and up early in the morning to start fishing.  The first drift produced first a large bonito and some big reds, and then the yellowtail started biting full speed.   Initial losses were high, but once we got in the rhythm the fish started coming over the rail!  First stop was for 15 yellows, all 20-25 pound fish!
As soon as the bite fizzled, Captain Mark was on the move and looking again.  One stop after another, each producing 15-20 fish.  We didn't sit long if the fish didn't bite, or if they slowed up.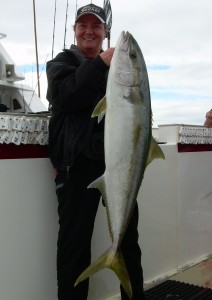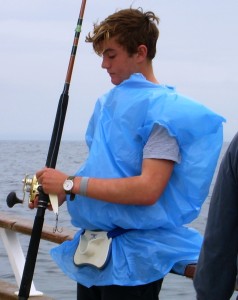 Around 10 AM it started to sprinkle, just as Chris had predicted.  Then it started to pour!  A few of us had rain gear.  I thought the jacket would be enough, but the rain soaked my Fishworks pants, gluing them to my legs, and the water ran down from there into my boots.  I ended up with ½ inch of water them!!  Fortunately the weather was relatively warm, being wet wasn't a huge issue.  Rain was pretty steady until around 3:00, then finally stopped.  My pants dried in 20 minutes, but my boots were wet for the rest of the trip.  Through it all, the fish just kept coming!
The only way to describe the day was EPIC!  With near limits all the way around the first day, Captain Mark was at a loss of what to do the second day.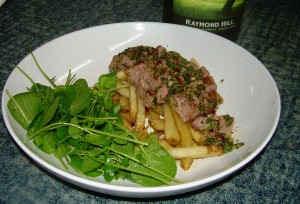 At night sitting on anchor with the squid lights out, the boat was surrounded with red crabs so thick the sea was clouded with red.  Huge numbers of crabs had been around us all day, and the fish were stuffed with them!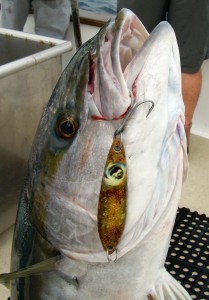 We headed back up the coast drifting some high spots for shallow water rock fish, but amazingly, we couldn't seem to avoid more schools of big yellowtail!  Full limits of yellows were quickly finished off, and we had to release the yellows that were hooked, while one spot produce nearly wide open ling cod for a short while!  No more rain, but a bit more wind, made some of the drifts a bit challenging but with a little more weight it was still totally fishable.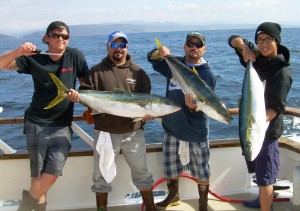 It was truly an amazing trip!  Captain Mark said he had never seen that quality of fishing in this area, and the quality of fish rivalled Cedros!  The crew was on top of it the whole time, gaffing, bleeding and tagging fish.  We had a wonderful group of anglers who worked together and got the job done!
I can't imagine how you could top a trip like this!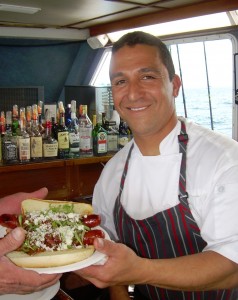 Jason was in the galley serving some awesome meals, including a dinner of fresh yellowtail that was delicious, steak dinner another night, and even pancakes on the morning we returned to the dock!
Fish count for 24 passengers was limits of yellowtail, most of them 20-28 pounds with a few into the 30's, and 90-some lings with plenty of rock fish to go along with it.  Most of the yellowtail were caught on jigs, with fishing this good, color didn't seem to be a factor.  The lings were mostly on sardines, but a few of those bit the jigs as well.
Just an incredible trip… and home in time to watch the Superbowl!
Thanks to Captain Mark Gillette and the crew of the Eclipse!  I can't wait to do it again!!