It's always fun to fish with Captain Greg Obymako… He posted up a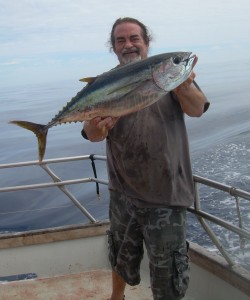 weekend trip in mid-September on the Pacific Quest and I saw some friends who said they were going, so Danny and I booked a couple of spots on it as well. Good thing! The trip filled up really fast!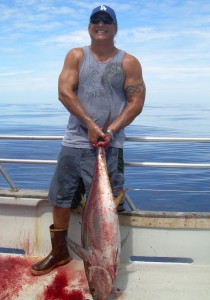 So I snuck out of work early on Friday and we ran down to the landing. Got a parking spot and went to make the rounds looking for some other friends heading out that night. Then off to Mitch's for a mixed seafood platter… all the good stuff! Calamari, beer battered cod, crab cake, shrimp… yum! And a local craft beer on the side! Finished that off and found Stew Suenaga and his friend Dave watching a dock cart of their stuff and ran and got ours out of my car. Mike Blackburn was also among the group, and a few other people waiting around. There were lots of boats going out tonight. Lots of people to chat with. Good fun already, and we weren't even on the boat yet!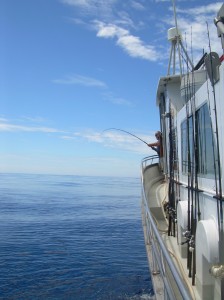 Captain Greg came in with his group from a two day. They'd lost a nice wahoo at gaff, but had decent trip out of it anyway. Greg promised to have the boat turned around quickly and get on our way. Didn't take long at all to unload, load the galley, and get us on board!
Along with Captain Oby, we had second Captain Cal, Jeff running galley as well as working deck, and Jake on deck with him. Jeff gave us the rundown on the way to the bait dock. We'd be fishing US waters, heading to Cortez where there'd been some good scores in the last couple of days on better grade yellowfin. We loaded up on big sardines, both bait tanks and the slammer, and we were on our way!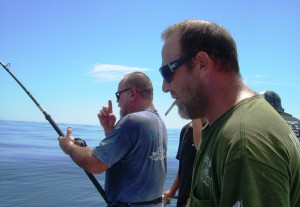 Up in the morning and still on our way to the bank, breakfast burritos were served before we made it the rest of the way. First few stops were a couple of smaller grade yellowfin (8-10#) and massive quantities of skipjack and bonito, that rushed every bait that hit the water. Jeff on deck suggested trying chunks of sardine, but the skippies eventually went for that as well. Then I tried a flat fall and they murdered that. After releasing a couple of skipjack off of that, on a third drop they rushed it and I think one of them bit the line. I watched my $20 jig sink away, with the skipjack following and snapping at it until it sank out of site.
Greg had had it with the skipjack and made a move.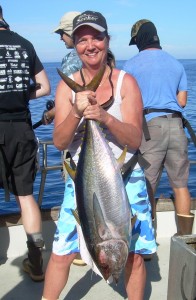 We stopped on a dolphin school and hooked up 4-5 large ones. Only two yellowfin made it to the boat, Mike and his friend Dave. Think these were 50-60 pound class.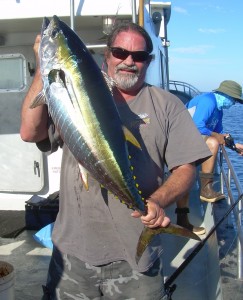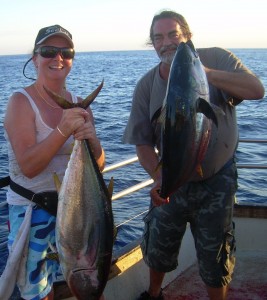 We drove around for quite a while, chased some bird schools and had burgers for lunch. I grabbed a nap, and got up when we stopped again on a pod of dolphin, for no biters. We finally stopped on a spot of fish that started to bite late afternoon. Greg said they were bigger fish, I landed one on 40# but then couldn't get bit, so I dropped to 30# and started nailing them! We had a steady pick at them for a couple of hours until it started getting dark. We put probably 30 of these 25-30# fish on the boat.   I ended up with 5 of them. One guy was still hanging a bigger fish in the bow when the bite fizzled. Greg said there were no fish on the meter, and they chased this guy's fish around for a bit while Jeff started serving a spaghetti dinner. He eventually broke it off.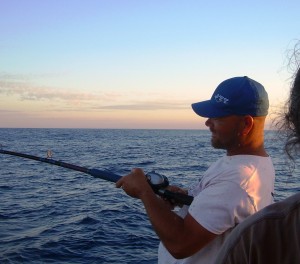 We started the next morning at San Clemente Island for yellowtail. The bite had been early morning. Greg metered a school in gray light, but they weren't biting. We ran around a few other boats out there as the sun came up, but never found the school again or any biting fish. Greg's not one to wait around, we left and headed offshore to look for paddies.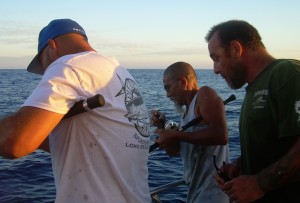 Shortly after we started trolling, Stew hooked up on the troll and landed a nice big yellowfin. Unfortunately there were none of his friends in the neighborhood who wanted to play.
It was a wasteland out there. Very few paddies, almost no birds. We found one paddy packed with 12" yellowtail, another with some even smaller. One of them through the tiny yellows you could see a couple of dorado cruising around, but they could not be coaxed into biting.
Greg rigged up the trollers for wahoo. We'd been running them an hour or so when one of them suddenly went limp. The marauder was gone, wire leader shredded. No one heard a sound. Had we gotten bit and snapped off that quickly?
We arrived back at the dock, tired and sunburned. It had been clear and sunny all weekend. Hot!
Awesome fun trip!   We ended up with 39 yellowfin, 62 skipjack (many more released), 6 yellowtail, and 15 bonito.
Thanks Greg and the crew of the Pacific Quest! I love this big little boat!! There's always plenty of room with the loads limited to only 12 passengers! I have some great trips on this boat, and this was another one! I can't wait until they move back up to Long Beach, I hope to get some fall, winter, or spring trips with them before they move back down south for the next year's tuna season!