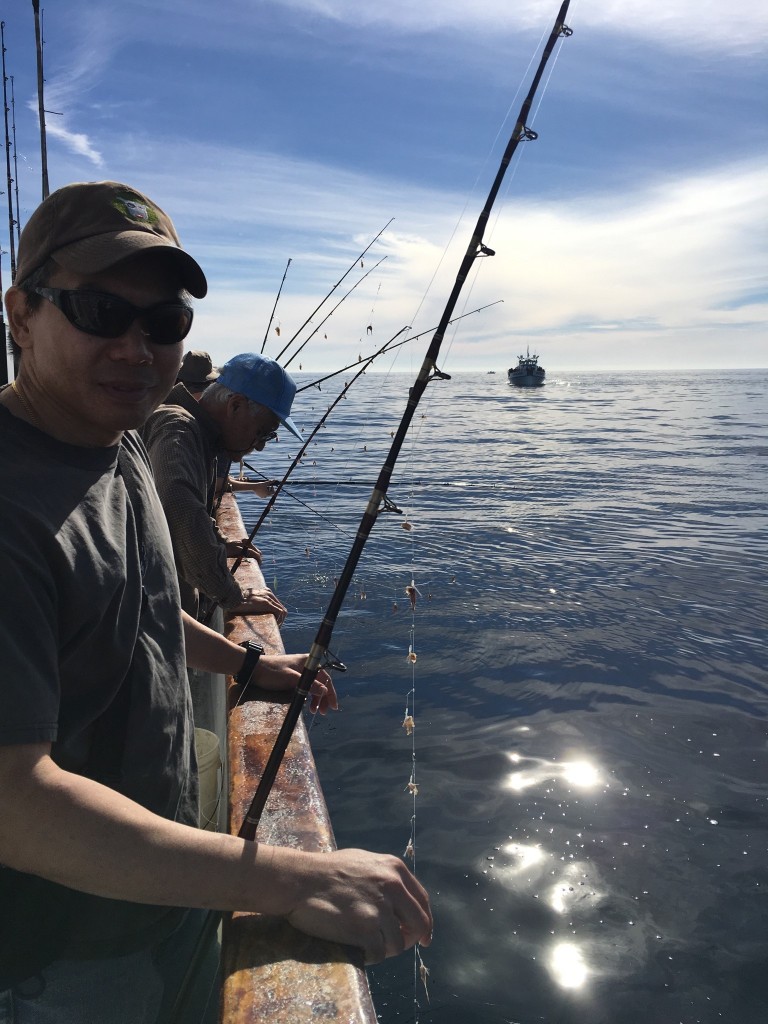 My friend Julian asked if I'd like to go with him and a buddy fishing sand dabs this winter.  This being something I'd heard about but never done, I said I would.  He set a date and we made our reservations.
The boat leaves at 9:00 AM.  I planned to get down there around 8:00 to get my license for the year as well.  Checked in and waited.  Julian arrived and introduced me to his friend Allan.  Armed with my 5 gallon "Home Depot" bucket and several one and two pounds sinkers (Yikes!) I boarded with everyone else.
On board we had Captain Andy, James in the galley, and Cameron and Patrick on deck.  We had about an hour out to the fishing grounds.  Julian brought me a 10 hook sand dab rig so I tied that on, and I had a six hook rig in my bag I found in the attic that we could use for backup, if anyone of us lost theirs.
I ordered breakfast to eat on the way out…  a breakfast burrito, but put it in a bowl and keep the tortilla.  A little bit of hash browns, bacon, fried over easy egg, cheese and salsa.  Really good!!  Thanks James!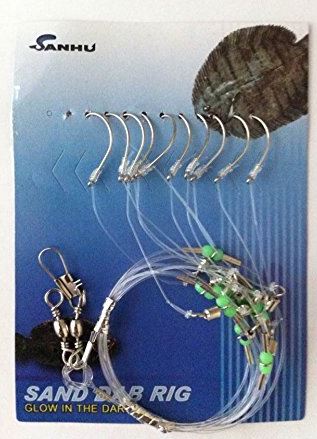 For the novice, a sand dab is a flatfish, similar to halibut and flounder, an opportunistic predator that camouflages itself on a sandy bottom, waiting to attack squid or small shrimp that pass by.  There is no limit on them, and California regulations allow you to fish for them with more than two hooks.  Anglers could be seen with anywhere from 6 to 20 hooks…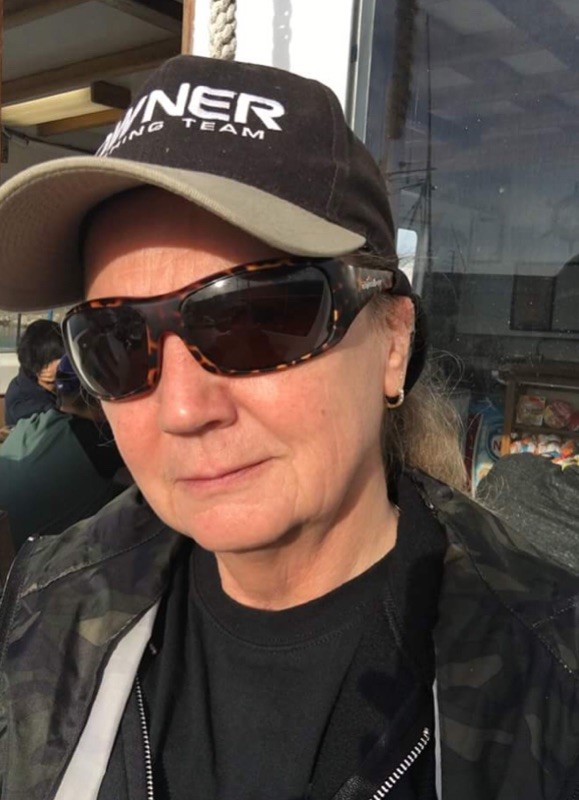 We ran out from Long Beach out near the oil rigs and anchored.  Flat calm seas, not much current, but 240 feet is plenty of line to get in tangles without any current.  We baited each hook with a piece of squid, drop down, and wait.  The nibbling started almost immediately.  When it stopped I wound up the first drop of 240 feet…. Nothing.  Not one fish.  And no bait.
Baited up and dropped again.  Julian said you needed to set the hook on them, so every few seconds, when you feel them nibbling, give it a good jerk.  But after a few minutes, I felt that strange vibration in the line that says its rubbing another line.  Wonderful.  Wind up again to find the line belonging to the guy next to me wrapped up on mine… and no fish.  5-10 minutes to untie the mess, bait up again (only about half of the hooks empty this time), and drop again.
Finally, after a few minutes, it felt like it could be a little heavier… (one pound of weight, its really hard to tell).  Wind up again… I have one sand dab, and 3 tiny little red fish.  "Julian, tell me again how much fun this is…"
Then the mackerel showed up.  Apparently they were in school… studying underwater macramé.  So you wind up halfway and find you're wrapped up on someone who already has a mackerel almost to the surface.  While your bait is hanging mid water column getting the first guy untangled, you're loading up on your own batch of mackerel, who in turn wrap up the guy on the other side of you…..  "Julian, is this the fun part?"
Captain Andy observes the disorderly jumble ensuing on deck, and announces we're going to make a move.  We try another spot, that produces nearly nothing, and quickly move again.
I had arrived in a sweatshirt and jacket, both of which were gone before we left the dock.  As the day wore on it was getting downright warm.  I got a bottle of water and sat down in the galley.  James said they had done pretty good the prior day, and the fish hadn't started biting good until around 1:30.
When the anchor drops again its nearly 1:00.  And within a few minutes there, we did start picking up a few more sand dabs.  I didn't fill my bucket, as Julian had predicted, but I probably got it about a third of the way…  Not a bad day.
We called it a day and headed back in, with a 5:00 ETA back at the dock.   I cut off my sand dab rig, carefully rolled it up knowing full well when I go to use it again, it will be hopelessly knotted.  And put it back in my tackle bag… for next time.
And all joking aside, Julian, I did have fun!!