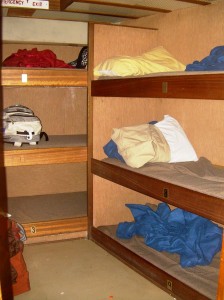 Statistics:
Boat's Size: 95′ x 25′
Capacity (Coast Guard Approved): 80 people
Bunks: 35 (in 3 to 9 person air conditioned staterooms) – Most bunks are approximately 73″ long, and are generously wide.
Staterooms:  Doors that close, some hooks on the walls, but no extra storage shelves or drawers, and no sinks.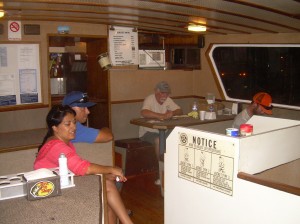 Galley: Seats about 20
Heads: 2 restrooms (one with a shower). Access is from interior of galley.
Landing: Helgren's Sportfishing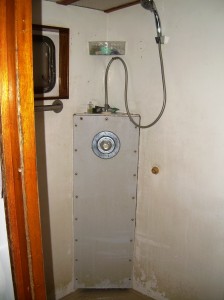 Address: 315 Harbor Drive South, Oceanside, CA
Contact: (760) 722-2133
Parking: Free. Large public lot across the street.
 Some details and additional information:
All the bunks on the Oceanside 95 are in staterooms, anything from 9 bunks in the bow stateroom, to a couple of smaller ones with 3 bunks. Most of them had 6 bunks.   Most of bunks are around 73″ long, and generously wide.  The bunks are covered with a soft tweed fabric, which is nicer than the vinyl covering on a hot day, and also don't leave you with that feeling you're going to slide off onto the floor in rough seas!
The air conditioning works really good… so much so I needed a blanket, and wished I'd had a sweatshirt. I think most of the guys were pretty comfortable.
Stairs from the center of the galley split and one set go to the aft staterooms, another to the forward ones. There are two spacious heads off the galley, one with a large shower area.  The shower is seperated from the toilet by a short wall, and there is plenty of counter space away from the shower to set your dry clothes, so you don't have to worry about your clothes getting wet.  The next person into the head also does not have to come in to find a wet seat!
The galley seats 20 at a time comfortably. There's a long bench across the back of the house (outside) with a padded seat and tables in front of them where another 8 or so people can sit. It's usually in the shade, so it's a nice place to get off your feet for a while on a sunny day.
Hand wells around the bait tank are easy to get to, and a good size to be able to easily grab a bait. They're relatively dry and only spilled over in deep swells.
Fish are stored in gunny sacks, and tagged and dropped in the hold between bites.