I had no plans for Memorial Day weekend, and when the rain was dropped from the forecast, I started looking for a good ride sometime over the weekend.
I saw the Triton was doing overnight trips, and grabbed one of the last spots on a trip fishing Sunday.
We left the dock a little late due to one late passenger. We tried unsuccessfully to squeeze him for a round of beers for everyone on board, and we were off to the bait dock. The sardines were lively… and HUGE!! Loaded up, we headed out.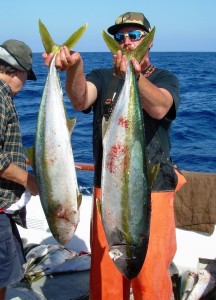 Captain Ryan introduced himself and the rest of the crew, second Captain Bryan, Shane and Chuck on deck, and Jeff in the galley. I rigged according to the captain's recommendation, 4/0 hooks for flylining, and sacked out in my double sized bunk!
We got to the island a little after one, and the crew set out lights to try for squid. They ended up with a few pieces, nothing huge. I'd heard the yellowtail weren't really eating the squid, they were focused on fin bait. I knew the bass would love them though…
Up at gray light, Captain Ryan made a move and set us up on anchor. The yellowtail started biting almost immediately. We had a steady pick at them for about an hour and a half. Not sure if it was the time of day, or a skiff running over our chum line that shut them down, but by 7:30 it was pretty much over at that spot.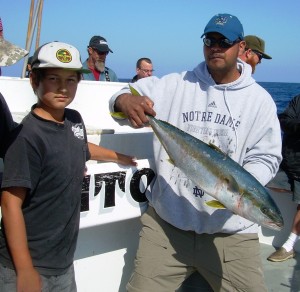 I had a breakfast plate while we made a move. A couple of slow spots later, we anchored up on a boiler rock and started a good pick at the calico bass. Most of them were short, but we did pull up a few that were legal. Most of those were returned. The one legal that I got was when I switched from fishing the squid to one of the big sardines, and flylined it way past the rock behind the boat.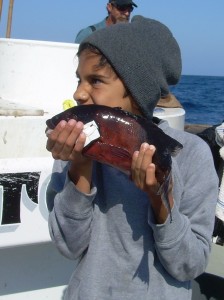 The wind came up in the afternoon, making the boat swing wildly and fishing difficult. A couple of spots produced one more yellowtail each. We picked up a few sheephead and other bottom grabbers on spots set up to fish bass.
We ended up with 16 yellowtail for the 20 passengers. Most of those were good quality fish, in the 15 to 20 pound range. Jackpot was just over 20.
Great way to spend a day!!