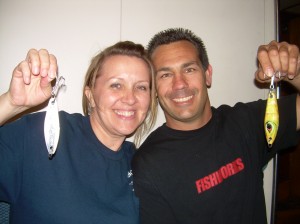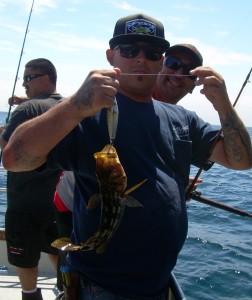 Just got off the third Bait Wraps sponsored trip on the Pacific Quest.
I scored a parking spot in the main lot, and took my gear down to the boat.  8:10 and only one other passenger ahead of me.  Everyone else was there by 8:30 or so and we loaded and got settled in.
We checked in, and everyone got a free bait wraps yoyo "BB" jig…. and fresh baked cookies!
Captain Greg gave the safety speech and game plan.  We had some squid already, and would not be stopping for fin bait.  Saturday's trip had stayed at Catalina, tonight we were heading to San Clemente, try to get some more squid in the dark, and set up to look for seabass at gray light.
We got to the island around 4 AM.  I woke up when the engines slowed, but went back to sleep until I heard the anchor drop 30 minutes or so later.  The squid were thick around the boat, and they guys were easily filling the tanks just with scoop nets.  We fished a bit there, too, but not even a nibble.
When the tanks were sufficiently filled, we moved in closer to the island.  Greg metered fish where we were sitting, but there was absolutely no interest in our hooked squid.  We hung out in the cove until light, hooked a few very small yellowtail, most of those were released.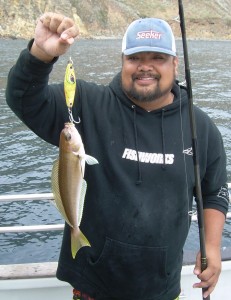 Bone chilling winds in the morning gave way to a sunny afternoon, but still quite breezy.  We passed the day moving from one spot to another, catching fish pretty much all day…  Just not any of the big seabass or yellowtail we would have liked to have seen.
A few of the guys fished the Bait Wraps jigs, catching a few nice bass on them, as well as a white fish.  Ken fishing one in the bow had something follow it all the way up that Captain Greg thought at first was a nice sized yellowtail, but when it came into full view it was actually a big bat ray that followed it all the way to the boat and snagged a "wing" when it turned to head back down!
About mid-day we had a visit from the Department of Fish and Game.  Two wardens boarded the boat, checked licenses, took a peek in the fish hold, and were on their way.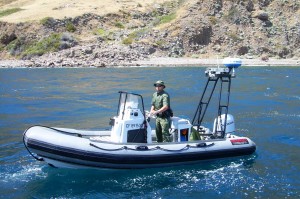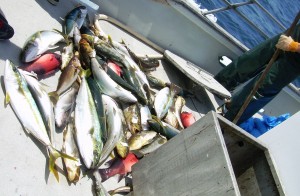 With nonstop action all day, we ended the trip 31 yellowtail, 57 calico bass, 14 whitefish, 7 sheephead and one blue perch (it was a big one!).  Lots and lots of yellowtail and calicos released.