Back by popular demand, after the April Bait Wraps sponsored trip on the Pacific Quest, we set up two more; one in May and one in June.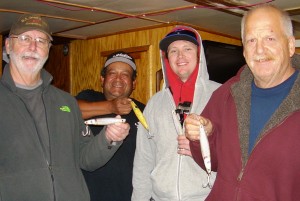 After boarding and handing out jigs to everyone, Captain Greg came in and went over the game plan; we'd be going to Catalina to see if we could continue the recent seabass bite, look for some squid in the dark, fishing into gray light, then looking along the beaches for yellowtail or seabass.  We had some squid left from the previous trip, so there would be no stop at the bait dock.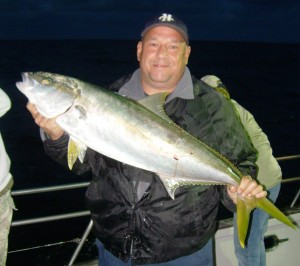 I slept for the ride out and got up around 2:00 AM. Most of the passengers were up, and one by one drifted back to bed with no biters.  I went back to my bunk around 3:30.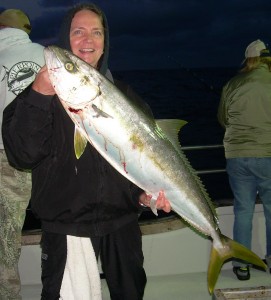 I woke up again at around 5:15, still anchored in the same spot. I was debating whether to get up when the second captain came down and said it was gray light, we should be up in case there was a morning bite.
15 minutes later Matt came out and dropped a squid on a dropper loop and got bit immediately. He hadn't been fighting it more than a minute and I was bit as well!  We landed both fish, 25# class.  But there were no more bites.  When it got light, Captain Greg started hunting around the other beaches.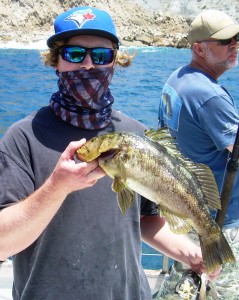 It was slow picking around all day. There were a few bat rays, a few bass, and some tiny white seabass released.  Captain Greg said he knew where there was a hot bite of some really small yellowtail.  We could go get in on that, or we could keep looking around.  The consensus was, keep looking for some better grade of fish.
Late afternoon, perseverance paid off. Around 3:30 we anchored up by a few other boats and within a few minutes the yellowtail started to bite.  Decent grade, maybe 8 to 10 pound range.   We put 41 of these fish on the boat in just under an hour.  Pretty much non-stop action, with the fish coming through in waves biting 3-4 people at a time.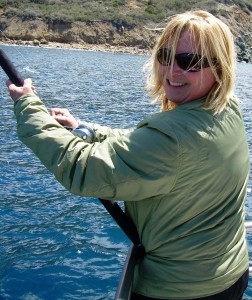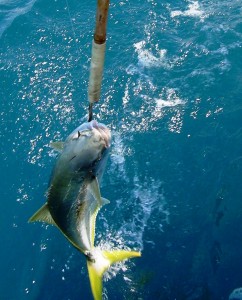 So that's about it! Great breakfast burritos and burgers from Geoffrey in the galley.  And once again a really fun group of anglers.  A stiff wind over night died down pretty well by morning, and not a bad trip home.  And everyone got a new Bait Wraps Kraken surface jig to take with them.
Thanks again Greg and the crew of the Pacific Quest! I can't wait to do this again.  The next trip, Sunday June 5, is sold out.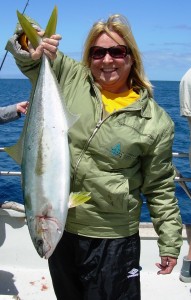 The Pacific Quest will be running trips to the islands and offshore from Pierpoint in Long Beach through June. Remaining trips are selling out fast!   They'll move back down south July 1 for the tuna season.  A complete schedule can be found on their web site:
http://www.questsportfishing.com/index.php