The drive to Oceanside isn't nearly as bad as going all the way to San Diego.  There had been some early season activity on bluefin, so Danny and I decided to take a run and see if we could get in on it.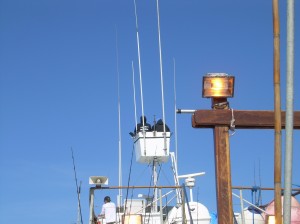 The bite had been mostly 25-30 pound fish.  We had geared up for that and heard at the last minute what they had been seeing was more in the 60 to 100 pound range, so I added a 50 pound outfit to my arsenal.
We left early and had a pretty easy drive down.  We were the first ones there, grabbed some fish and chips and waited to board.
We were heading to Mexico.  After everyone was on board and signed in (full boat), licenses checked or paid for, we headed to the bait receiver. Captain Rick gave a brief safety speech, introduced the crew, and went over the game plan.  We'd head pretty far south, and slowly work out way back through the day.  Have some lighter outfits to flyline, something heavier, at least 40 but preferably 50-60, with a flat fall, sniper, or bait hook and 2-3 ounce sinker on a rubber band to fish for the bigger fish at gray light or in meter marks.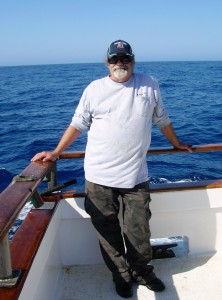 With that, we were on our way.  Conditions  were a little lumpy on the way out, but definitely improving by morning.  The engines slowed at around 5:30, trollers out, the hunt was on.
Long day — Slow fishing.  Danny and I ordered breakfast plates, and returned to the deck to wait and watch.
Paddies were empty.  Metered fish scattered at the sound of the boat.  We finally found a paddy near noon that bit… and produced two tiny yellowtail.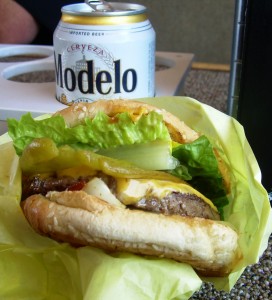 We ordered lunch…  Doug cooked a patty melt for Danny and a cheeseburger for me.  Boat burgers are always awesome!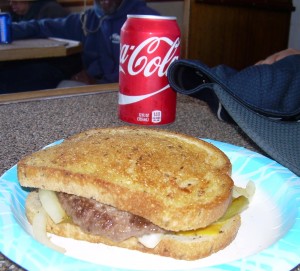 More trolling, the Captain Rick was on the PA telling everyone to "Get Ready!!"  Off the bow we could see in the middle of calm waters, heavy ripples pushed up from a huge mass of fish below the surface.
As we got closer, they vanished, only to pop up again a little ways ahead of us again.  This time Rick tried to run around the other side of them, only to have them vanish again.  The crew threw bait, we chased them several times, only to have them vanish and pop up again somewhere else.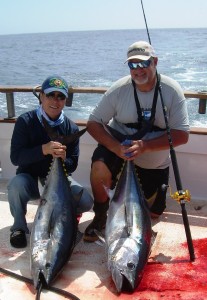 Nothing hooked in all of the activity seen.  Bluefin being bluefin.
More trolling, more searching.  We slowed up on a meter mark, the crew threw bait, we lined up along the rail, shuffling along.  Finally, one biter, then a second!  The fish took the anglers up and down the rail several times…  Wraps and tangles were quickly untangled with the help of crew following both anglers at all times.  Eventually both fish were landed.  But no more than those two were hooked….
By the time those two were boated, it was time to head for home.  We trolled for a little longer before Captain Rick gave the word to pull in the troll lines.
Danny and I split a quesadilla, wrapped our gear, and I went down to sleep the rest of the way in.
Thanks again to Captain Rick and the crew of the Oceanside 95.  A slow day of fishing, but certainly not to any lack of trying.  I can't wait to do it again!!