I haven't done a lot of open party full day trips, especially on the weekends. The loads end up being a little heavy. The Indian had been running on weekends with 15-20, so Danny and I decided to take a Sunday and get out on the water.
Of course, today, there were 30 people.  Oh well….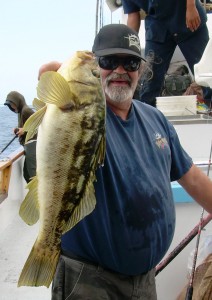 We picked up some nice sardines on the way out. Decent weather, a little choppy going out, but not bad in a big boat. We had a breakfast plate on the way out, dawdled too long to get a bunk for the ride.
Fished here and there. Nothing spectacular, but pretty constant bite of something. Early morning we had some awesome calico bass fishing, Danny and I each release a dozen or more "almost legal" and each manage one that was legal.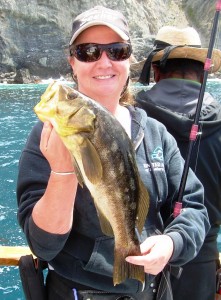 Next up were the bonito. Mostly fairly small.
The biggest one I hooked ended up being seal lion breakfast after I got tangle with a few novice anglers and the fish running in circles.
No yellowtail  or other exotics, we got the short end of the stick on allocation of sardines. They lasted longer than Captain David expected.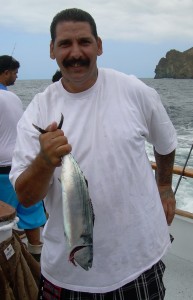 When we ran out early afternoon they had some frozen squid so we went out to look for rock fish. Danny and I grabbed a cheeseburger, they were awesome.
The rock fishing was pretty good, we got some decent sized fish.
Linda was hammering them. The red and yellow shrimp flies seemed to be the hot ticket. She was pulling up two of them like this on nearly every drop.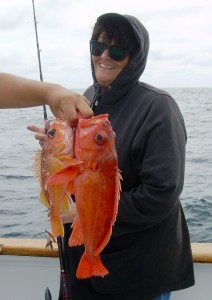 It didn't look bad when we were leaving the island but the crossing was less than wonderful. I managed to snag a bunk, Danny was tired enough to sleep on the floor and hop into a bunk when someone else abandoned it.
All around a nice day. The Indian is a nice big boat, and actually the load wasn't horrible. I'd definitely do it again. Redondo Beach has plenty of parking, $2 on the way out with validation.