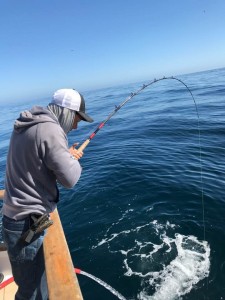 I saw my friend David Han had a charter on the Fortune for a Saturday and contacted him for a spot immediately.  The Fortune runs out of 22nd Street Landing in San Pedro during the early part of the year, and I always enjoy riding that boat.
I spent an hour or so baking cookies Thursday night; pumpkin and white chocolate chip, and chocolate chip.  Danny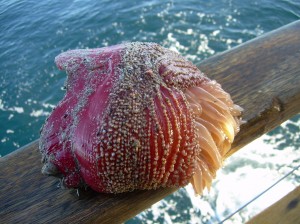 had been talking to Greg Obymako, on the squid boat Pacific Carnage.  They'd probably be providing squid for us Friday night, if we were lucky, so I packed an extra box for Greg.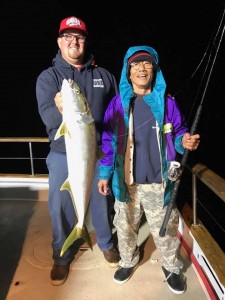 The trip was booked with an earlier departure, 8:00 PM.  I arrived at about 7:00 to find about half the load already there waiting.  No space in the adjacent lot, so I parked in a temporary spot and left my gear in the care of the guys already waiting while I parked my car across the street.  Everyone arrived, we boarded and were on our way out a little after 8:00.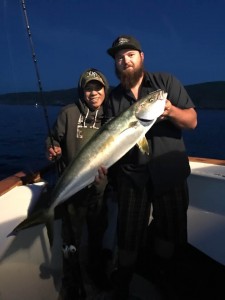 We had Captain Bob at the wheel, with second Captain Gump.  Grant and Axel were on deck, with Julio in the galley.  After a safety speech, Captain Bob discussed the game plan and rigging suggestions.  We weren't sworn to secrecy, so I'm guessing it's safe to say now we were on our way to Santa Barbara Island to fish yellowtail, with, indeed, a planned stop at Catalina for squid.  Dropper loop or sliding sinker for squid in the morning, and slider for squid or flylined sardines suggested for late morning and afternoon.  I rigged up and entrusted Greg's cookies with Grant, and went to bed.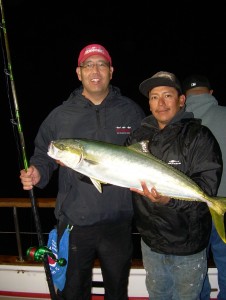 I got up as soon as the engines slowed at around 4:30, and was on deck ready when the anchor dropped in the dark.  We'd settled in and started fishing when more boats started to appear through the fog.  The Thurnderbird was first, just off our stern, and the Pacific Star a few minutes later anchored just on the other side of them.
Just as gray light was creeping in, we got our first bite, and Dean Okamura landed the first yellowtail of the day on a dropper loop.  Several more were landed, and we ended up with 7, I think, before it got fully light out, almost all on a dropper loop.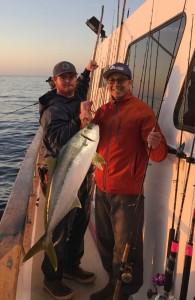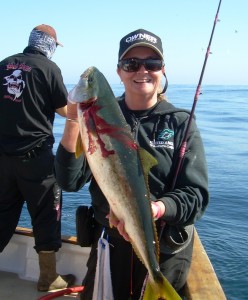 The bite died out as it came fully light out.  There was zero current, not much going on at all.  Captain Bob had the crew pull anchor, and we were off looking around.  I ordered a breakfast sandwich while we were on the move.
Next stop, we drifted over a spot several times, with one or two bites on the yellowtail on each drift.  Flylined sardines were the best shot at them here.  I hooked and landed one on the second drift, hooked and lost one in the rocks a few drifts later.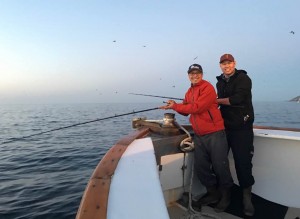 That eventually stopped producing and we moved again.  We were fishing too deep for rock fish, so a few incidental catches had to be released.
I ordered a cheeseburger for lunch.  Burgers were hand made from ground beef, not the frozen patties, and was excellent!  I was stuffed!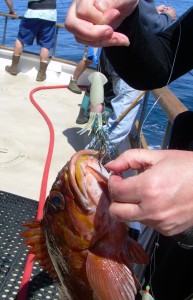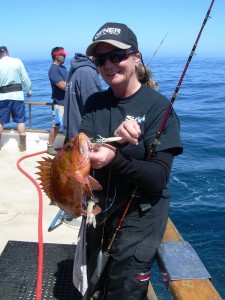 For our final stop, Captain Bob moved us into a shallower area where we could keep rock fish.  I finished a sardine for a while hoping to find one more marauding yellowtail with no luck, then remembered I'd gotten some Ahi squid sabiki's at the Fred Hall show, tied one on with an 8 oz weight, and caught a nice chucklehead on the very first drop with it!
And that was it!  At around 2:30, Captain Bob called it a day, and headed back.  On the trip in, Julio served up some spicy chicken wings with dressing and raw vegetables.
All around a great trip!  We ended up with 21 yellowtail, I think, one ling cod, and plenty of rock fish in the end to top that off.  The weather was beautiful, other than a bit of a bumpy ride on the way out.  As always, the crew was awesome, and right there to help whenever you needed them.
 – Special thanks to Will Yip, for allowing me to use a few of his photos in my report!