Danny and I spent a lot of time talking to Jonathan and Jillene at the Fred Hall Show, and decided to book a fall trip with his brother Charlie.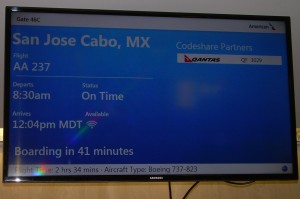 We picked some potential dates and sent them to Jonathan. From their list of hotels, and with some input again from Jonathan, we picked a hotel. We had three days to fish, so he suggested one day at La Paz, one day at Las Arenas / Muertos Bay, and leave a third day to decide when we got there. We agreed and Jonathan took care of the rest. When our dates were set, we booked our flights.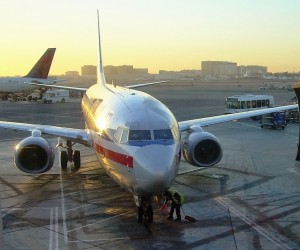 We left on Friday, September 30th. Flights were uneventful and arrived on time. From the moment we picked up our bags, EVERYTHING was taken care of for us.
Jorge picked up the three of us and loaded our bags into a luxurious van. We set out down the toll road, and stopped at a market along the way for drinks. Charlie got a soda, I got a beer, and Danny was looking for chocolate milk. None at the store we went to. He settled for a strawberry flavored milk drink and we were back on our way. Jill met us in the lobby of La Concha hotel and helped us get settled in our room.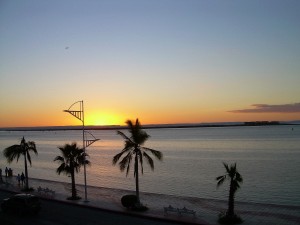 We grabbed a cab into town to have dinner at Tailhunters. The food was awesome! Jonathan came up and had a shot of tequila with us, then we went back to our hotel with instructions to meeting in the hotel lobby the next morning.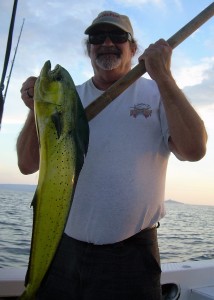 Saturday: We arrived in the lobby for our first day of fishing. Jonathan and Jillene were there with hot coffee, and packages of breakfast and lunch for each boat (and several bottles and boxes of chocolate milk for Danny!). Danny and I fished with Chito, Charlie with Bolie. We caught bonito early morning to be used as bait, and had great dorado fishing most of the day, both on the troll and fishing cut bonito. Most of the dorado were pretty small, but we scratched out a limit of decent sized fish to have processed to bring home. Danny and I brought light spinning outfits that we had a ball catching bonito on, and Danny hooked one small dorado on his as well.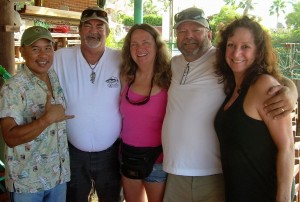 Sunday: Day two we went over the hill to fish Muertos Bay. A little earlier, Jonathan and Jill were again there to greet us in the lobby. With breakfast and lunch in hand, we boarded a van full of other guests. I got ahold of my friend James "Hawk" Davis to share one panga with me, Charlie and Danny fished the other. Fishing had been even slower in Muertos Bay than La Paz. I told my captain, Victor, that we wanted to fish for rooster fish, so we drove around to Las Arenas to catch ladyfish for bait (I wished I'd have brought my spinning outfit, Victor did all the catching on ladyfish for us). They were reluctant, we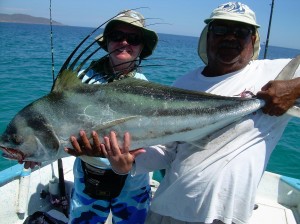 ended up with 3 baits, and set out to troll the shoreline for roosters.
Needlefish destroyed one of my baits. But a long slow troll with another one produced the fish we were looking for! I landed an estimated 40 pound rooster! We trolled around a little more for no more biters, and headed in to call it a day. Hawk went home, the rest of us shared stories in the van on the way back to La Paz.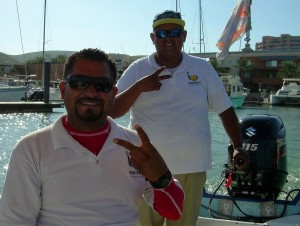 Monday: No fishing today. We'd seen advertisements for snorkeling with whale sharks and had asked Jonathan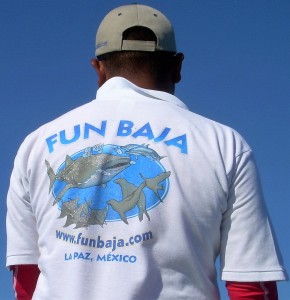 about it. He arranged for us to do that today, and told us to be in the lobby in the morning to be picked up by a van from the local marina. So when we got to the lobby, the driver was there waiting for us. A short trip to a beautiful marina, and we were fitted with masks and fins. Note, actually FITTED with masks. They had a variety of styles, and took the time to make sure each of us had one that fit properly so it wouldn't leak!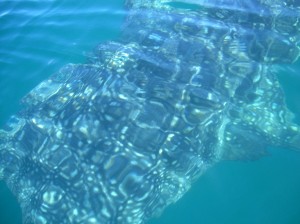 With a guide and a driver, we boarded a panga style boat for our trip out. We searched the La Paz bay for nearly two hours, while the guide assured us they'd find them, we were beginning to wonder. There were several boats out looking for them, and one finally stopped and put people in the water. We eased into the area with them, donned our gear, and slid into the water.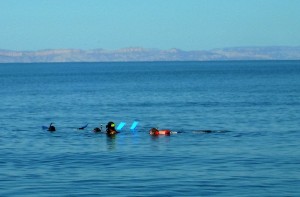 The boats all carry licenses to do this, and the guides instructed us that it is illegal to touch the animals, and kept close watch on their passengers to make sure they didn't. The first one we found quickly scooted away, but we moved to another spot where we were in the company of six of them at one point. We were told these were juveniles, "only" 15-20 feet in length. They seemed nearly unaware that we were there, feeding in a nearly vertical posture, sucking in huge mouthfuls of water to filter out krill, and expelling water through their gills.
We hung around watching them for an hour or so in the warm tropical waters, then got back in the boat to head back to the marina.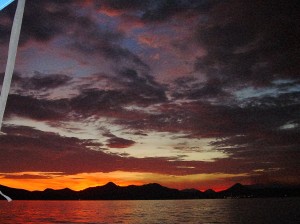 Tuesday: Charlie's last day, we all shared a panga in La Paz. Fishing was slow, but Chito worked hard to find us a few fish… we got a few more dorado to keep, and released most of them. We kept one large fillet that Charlie and I took to the restaurant in La Concha, and they prepared a platter of fish for us; deep fried, grilled with garlic butter, and fajita style for tacos.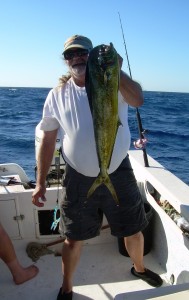 Wednesday: We checked out of the hotel, and Charlie went home. Danny and I drove to Hawk's house in La Ventana and settled in. Hawk had arranged for us to fish with Fabio on Thursday, and he stopped by Hawk's house in the afternoon to discuss plans for the day. Danny and I went down to the beach and fished a little in the surf and had fun catching a variety of little fish. We rigged what we'd need, had dinner, and turned in for the night.
Thursday: Up early, and down the block to the beach the pangas launch from. Fabio was already there. We loaded our gear in the dark and headed out. This was the first day we had wind. We tried to run out to the northern end of Isla Ceralvo to troll for wahoo, but the conditions were very rough. We came back in along the island out of the wind and trolled along there. No bites, no fish spotted. We caught a few baits again to fish for roosters and trolled along the sandy side of the island. One bite was likely a rooster, but didn't get hooked. Eventually the baits were ruined by marauding needlefish.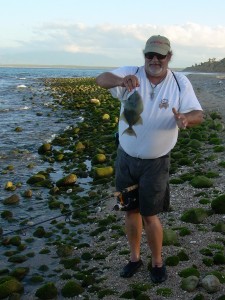 We trolled back toward the coast for dorado, without a single strike. Danny asked Fabio if there was a place we could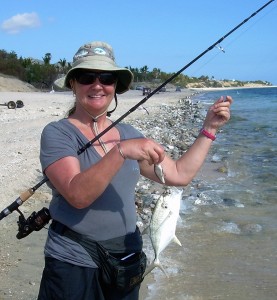 fish for smaller fish with our spinning outfits, and he took us to a reef area along the beach. We had a ball catching small jacks, a cabrilla, trigger fish, needle fish, and finally told him we'd had enough and headed in.
Friday was a day off. We slept in and went back to where the boats launched with our light gear to fish in the surf in the hour or so leading up to high tide. The bite was non-stop, catching and releasing the same variety of fish we'd caught with Fabio the prior day. Back at Hawk's house, he arranged for us to fish with Mundo, the Rooster King, the next day.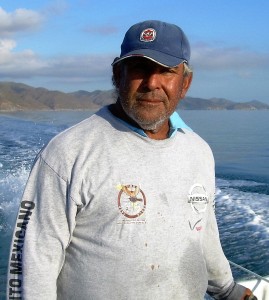 Saturday: Up early again to drive back over to Muertos Bay. Mundo arrived shortly after us, launched, and we were off. We fished for jacks for bait in the bay, but they were reluctant and the puffer fish were relentless. I caught two jacks for bait right away, and Mundo did not hesitate to give Danny a hard time about me outfishing them!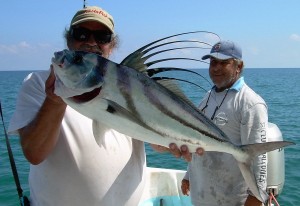 We moved to a rocky outcropping to the south and found schools of the small jacks puddling on the surface. Danny and I had a ball catching the little fish on our spinning outfits, and we ended up with plenty of them. We were having so much fun with them we were tempted to have Mundo stay and fish those, but we were off.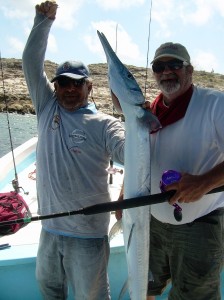 Trolling baits up and down that shore, we got a few bites on needle fish, but no roosters. It was getting around 1:00, Mundo told us to wind them in and took off toward the launch area. We thought we were done, but he zoomed right by and up the beach the other way toward Las Arenas. We put out baits again and within a few minutes, Danny hooked up the right kind, and landed a 20 pound rooster.
We trolled around some more. Danny hooked something else we thought was another rooster, but Mundo said it was a needlefish. Usually they seemed to let go of the bait after a bit, but this one held on. Danny got it to the boat and Mundo grabbed it to unhook it. He could barely get his hand around it, and the thing must have been over 5 feet long!!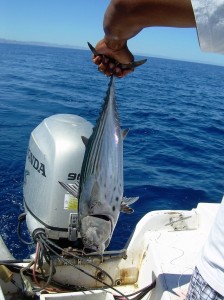 It was getting late; we were down to our last few baits. We trolled around a bit more, and finally told Mundo to call it a day.
Sunday: Its over already! We packed up in the morning and headed to Tailhunters. Our van to take us to the airport was noon, we left earlier to have one more meal at Tailhunters…. Cheeseburgers in paradise. Jonathan had our frozen fish there, so we loaded that up with some shrimp we bought in Las Arenas (shrimp season just opened!) and boarded our van for the scenic trip back to the airport. After a beer and a snack, we boarded for the flight home.
Back in California, we sailed through customs (they didn't even ask to look in the cooler), got a cab outside the terminal, and headed home.
Absolutely wonderful trip! No hitches, no problems… Jonathan and Jillene were there to help with anything and everything. Their planning and coordination was what REALLY made this an awesome trip! We can't wait to do it again!!