Danny and I have become regular attendees at the Angler Chronicles Taco Tuesday events at Michael's Sports Bar. A few months ago, Danny won a pass for a day and a half on the Pacific Queen, so we picked a weekend trip during what we hoped would be good yellowtail fishing.
We left Torrance around 1:00 on Friday afternoon. It would be the first trip on the Pacific Queen for both of us. The weather forecast looked ok, at least there was no rain forecasted for Saturday. Still, the drive down to San Diego was probably close to one of the worst I have had. However, on a brighter note, we arrived to find the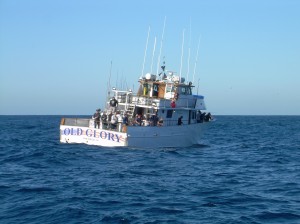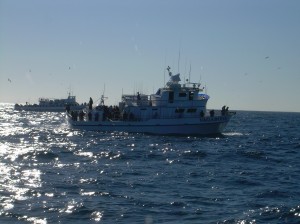 parking lot nearly empty, and parked right in front of Fisherman's Landing.
We checked in, finding all of the staterooms full and only top and bottom bunks available. With possibility of rough seas, we both settled for bottom bunks, and went to Mitch's to grab a bite to eat. Their mixed seafood plate is a favorite to share; with lots of fried calamari, shrimp, fish, French fries, and a crab cake, it's plenty for both of us.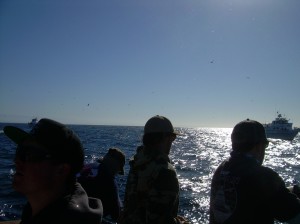 We got our gear out of the car and got in line at the top of the landing. The boat came in from fueling and getting bait, and we loaded right around the 6:00 time promised in the landing office.
We had help loading gear with lots of familiar faces in the crew, in spite of it being our first time on this boat; Captains Gavin and Bobby, and Johnny in the galley. We signed in and encountered something I found a bit unusual, the Pacific Queen no longer does a jackpot. After the safety briefing and trip plans, we rigged up and I went to bed.
I was freezing most of the night. I woke up at grey light and came out in a heavy jacket and sweatshirt, but the jacket went quickly back downstairs. We had relatively light winds, and it wasn't nearly as cold as it had been at night. We'd gone about 120 south, past Colenet, and seemed to be in very good company, with 8-10 of the other San Diego boats already around us. We'll pulled up the first drift and quickly started hooking a few fish.
The first few drifts were pretty chaotic, with horrific tangles on every hooked fish. That did seem to improve some over time, as the anglers began to settle in, the crew reminding everyone to keep their lines in front of them… Each drift would produce a few fish, when the bit died, Gavin quickly reset the boat, and so it went most of the day. No real crazy bites, more of a steady pick.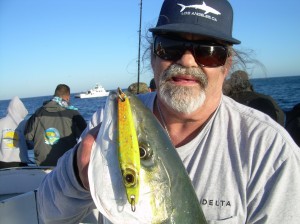 The winds slowly increased during the day. In the morning yo-yo irons definitely worked better. There didn't seem to be any particular color that was any better; I saw fish landed on just about any color.   Danny got a nice one on a Pacific Lures 7 ounce SR Model in Dorado Image.
As the day wore on, bait seemed to be somewhat more successful; a heavy sliding sinker or torpedo on a rubber band. I caught a yellowtail around 18 pounds on a sardine with a 2 ounce sliding sinker on 30 pound Soft Steel Ultra mono.  A few fish were even caught on the surface, but staying higher up also put you in the zone that some big bonito were hanging around occasionally.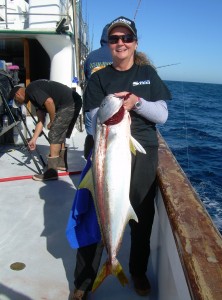 Although rock fishing was in the plans for the afternoon, that was foregone for windy conditions and a raging current.
We ended up with something between 50-60 yellowtail.
The food was awesome! Johnny had an egg mix ready for burritos for breakfast, but would make a plate for anyone who'd rather have that. Lunch was Caesar chicken wraps that were paired with a wonderful pasta salad, and dinner was slow roasted beef with mashed potatoes and gravy that was hot and very satisfying in the chilly night. Conditions had continued to deteriorate. As soon as dinner was over, I went to bed.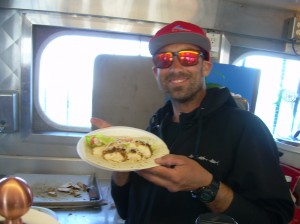 After a long day of fishing, I slept like a rock. (Other than waking up a couple of times hearing a passenger than was having a bit of a rough night… eeww….) We were back to the landing, unloaded, and on the road before 8:00 AM for a much quicker trip home.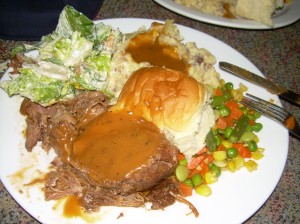 Thank you to the crew of the Pacific Queen, for really staying on top of things, helping with tangles and gaffing, bleeding and tagging fish!
Also thanks to Heather Bodnar, for procuring a pass for the raffle!!